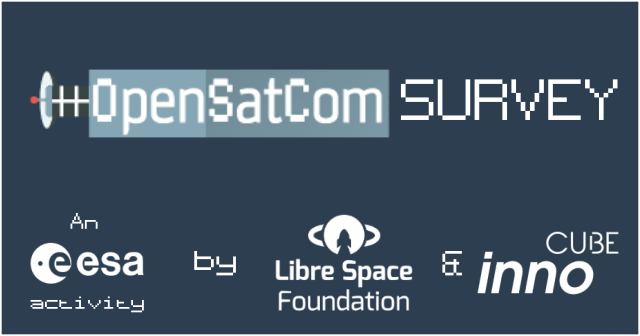 If you are an Open-source enthusiast (or not), with a strong interest, participation and involvement in the European SatCom ecosystem, we'd love to hear from you! It would be great if you could dedicate a few minutes of your time to take this survey. Its aim is to help better understand the European Satcom ecosystem's involvement with Open Source Software & Hardware.
The Survey
The survey itself is conducted as part of OpenSatCom; an activity carried out jointly by the European Space Agency and  Inno³ in collaboration with Libre Space Foundation. The first part of this activity resulted in the publishing of a quite detailed report about "Open Source Development Models in Satellite Communications". In that report, OpenSatCom evaluates the relevance of open-source development models for the satellite communications sector and identifies the ways such models can be beneficial. The second part of the OpenatCom project is scheduled to hold a variety of subactivies, including a constellation designer/definition on Orekit/Poliastro.
By filling this survey you will help assess the degree to which Open-Source Software & Hardware has been adopted by various players in the European SatCom field (industrial, academic, institutional). The aim of the survey is to provide valuable insight not only about the maturity level in regards to the various Open-Source models available but also about the level of involvement in Open-Source projects. Furthermore, it will provide insight into the relations these players have established with specific Open-Source structures (like foundations) while providing information about the strategies they have created in this space, and their expectations in regards to ESA's position in this domain.
The survey will remain open until the 30th of April, 2021.